About Us
Past & Present
Independent Explosives, Inc. (IEX) is an independent retail distributor of commercial explosives to the mining, underground mining, seismic exploration, quarry, pipeline, coal and construction industries. From strategic locations throughout the Northeast, we supply New England, New York, and Pennsylvania Markets, offering quality Dyno Nobel products and services. In fact, IEX is the only authorized Dyno Nobel distributor in the Northeast. The name Independent Explosives, in the explosives industry, conjures up a long and prestigious history of formulating, making and selling all kinds of explosives. From its beginning in 1936, and through the four "brother-sister" companies which formed up through the mid 50's (Independent Explosives Company, Chemex Supply Corporation, Independent Explosives Co. of Pennsylvania, and Independent Explosives Co. of West Virginia), IEX progressed from processing various types of nitroglycerin-based explosives, including permissible dynamites, to the manufacturing of ammonium nitrate blasting agents, and finally, in the mid 80s, to the manufacturing of bulk emulsion explosives.
Safety & Services
Today's Independent Explosives, Inc. continues that tradition with exemplary service and safety standards. We adhere to the highest industry safety standards at all our locations, in every aspect of our operations from handling to storage to transport. And our focus is one of delivering not only innovative explosives PRODUCTS, but also delivering VALUE to our customers. IEX is committed to helping you reach new heights of productivity and profitability.
In addition to providing quality explosives and blasting products, our services, in combination with Dyno Nobel, include:
MSHA/Blaster Technical Training
Technical On-Site Support
Consulting Services
Signature Hole Analysis
Final Wall Control
Blast Optimization Team
Underground Productivity
Supply & Technical Partner
Our customers find that having a strong supply and technical partner in the blasting industry is key. In turn, we recognize that customer relationships are an essential part of our own business success. So, our goal is to earn your trust and be your supplier of choice. Working side by side with our customers, the EMPLOYEE OWNERS of Independent Explosives offer ideas, based in extensive experience. An American Company proud to have the American eagle as our icon, IEX is ready to spread our wings in attendance to your needs and help you soar to new levels of success.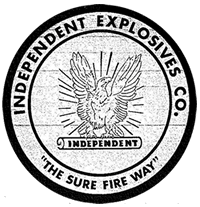 Customer Testimonials
See what our customers have to say
I am extremely pleased with the service I have received from Independent Explosives. Ed Wean Drilling and Blasting was very busy in recent months and appreciates the prompt and courteous service from Ed and the driver. The driver was always on time for our 5:00a.m. deliveries we required two or three times per week, which ensured my crew made it to our job sites on time. John's paperwork was always accurate, his appearance and that of his vehicle were always exemplary. Communication and availability of products have also been exceptional. Ed Wean Drilling and Blasting will continue to be a long-lasting, loyal customer due to the good impression made by these employees.
— Heather Wean-Havlik, Managing Partner, Ed Wean Drilling and Blasting, LLC
Once again, the entire IEX / Dyno Team worked "Spot On" with our efforts and the Contractor, OSC, to achieve a safe, on-time and productive felling event. Your whole crew ALL pulled together. We needed your services and you all stepped up. This event was drawn out, extended and a delayed process due to circumstances beyond any of our control. Typical on these type jobs. ALL SAFE- We managed to pull it off together. The main reason we choose to use IEX is you are all well grounded in field-mature technical knowledge and maintain sold SERVICE ethics few possess in these times.
— Ron Gilbert, Dykon Explosive Demolition Corp.
The Low Level Outlet project is part of a larger program for NYC DEP. Part of the project includes excavating strong and abrasive sandstone with unconfined compressive strength varying from 17,870 psi to 28,990 psi, with average strength of 23,600 psi. This would not be possible without the use of explosives and the great service provided by Independent Explosives and their personnel. The expertise of John M. and Dave W. in planning the project and onsite training in the earlier stages was critical to the success of this portion of the project. Working with Willie B. in securing the necessary inventory and coordinating deliveries has been a pleasure, and the guys delivering to the site have been timely and professional. Steve S. has been our main driver and has been great, but all the guys have been stellar. Willie has even made deliveries to the site to accommodate our schedule. I wish all my suppliers were so easy to deal with and as professional as the team from Independent Explosives and Dyno Nobel!
— John Arciszewski, Project manager Southland Holdings, LLC
Image Gallery
Photos from: Construction, Marine, Underground Mine, Quarry Aggregate, Quarry Dimensional Stone, & Training
Quarry Work - Dimensional Stone
Underground Mine Applications
Training Opportunities
Please check back for Blaster Training Sessions. Schedules/invites will be posted on here.
You may also call Eddie Ciocco at 484-614-9313 with inquiries.
IEX Sales & Site Teams
Meet Our Team